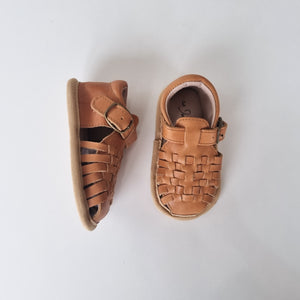 Almond is a warm tan brown in a smooth matte leather.

The Alfie Sandal was designed for girls and boys. Elegant, versatile, supportive and protective.
Our Sandals are of a very high quality, provide ankle support & protection with enclosed toes. They are comfortable and allow for a generous airflow for the hot summer months ahead. They are made with breathable genuine leather and have genuine buckles. 
Soft suede sole available in sizes 0-12months 

Please refer to the SIZE CHART before placing your order to ensure that you get the right fit.